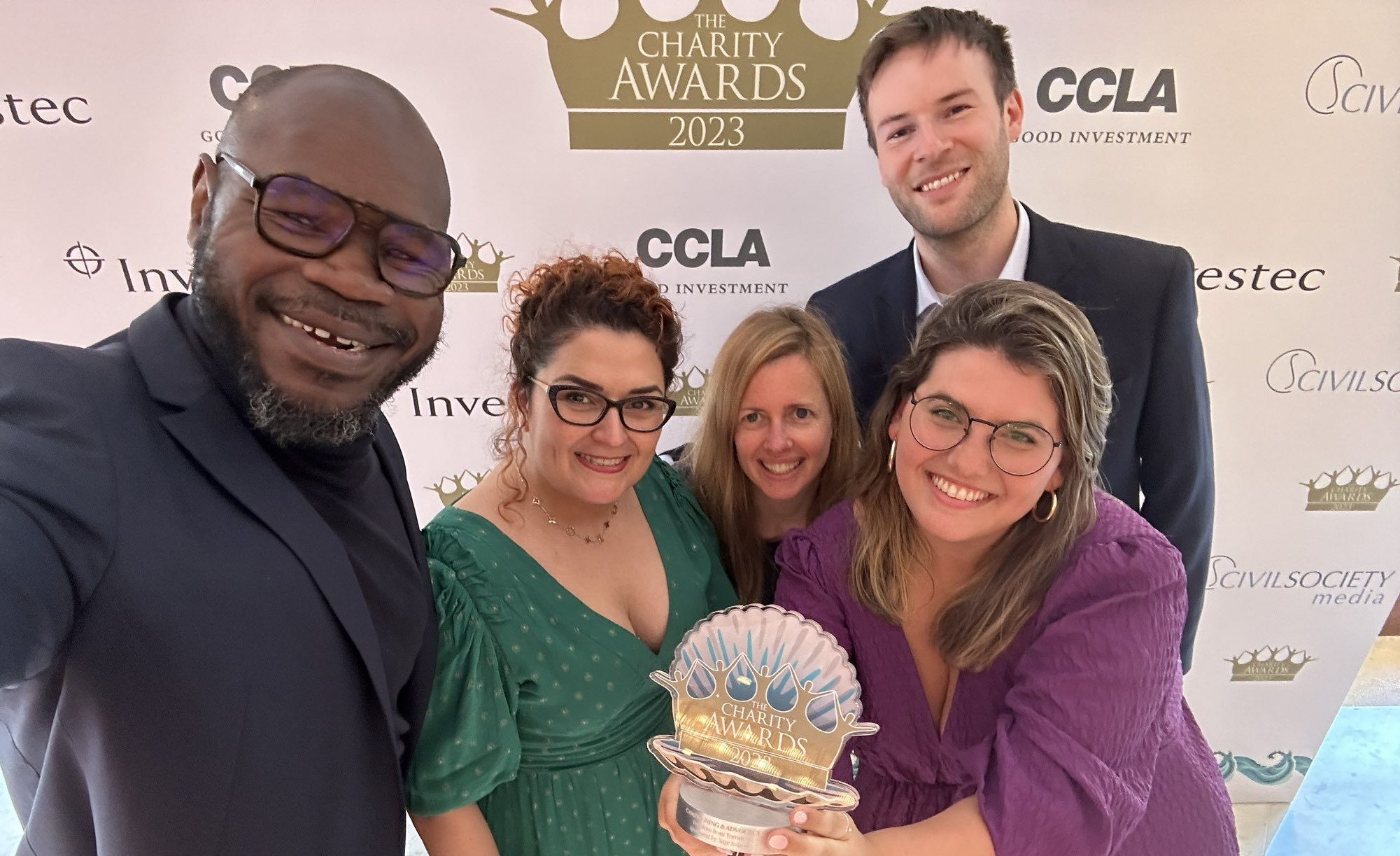 Freedom from Torture wins the Overall Award for Excellence with their #StopTheFlights campaign at the 2023 Charity Awards
SRT grantee Freedom from Torture has won the overall prize at the 2023 Charity Awards in London, in addition to winning in the Campaigning and Advocacy category. Their campaign #StopTheFlights was launched last summer in response to the government's £140 million pound deal to send asylum seekers to Rwanda. Under the scheme, some asylum seekers would only have the option to claim asylum either in Rwanda or a 'safe, third country' or apply for settlement in Rwanda. Freedom from Torture's campaign has so far convinced four of six commercial airlines to pull out of government agreements to fly asylum seekers to Rwanda.
Freedom from Torture decided to target the six airlines, reasoning that corporate actors would be more susceptible to public pressure than the current government. CEO Sonya Sceats said: "We decided we needed to take a new approach to campaigning because policy-focused parliamentary campaigning in this political context was no longer sufficient."
The judges praised the "masterstroke" tactics of the #StopTheFlights campaign, which used a combination of strategies, including digital and traditional media, as well as more direct action. One example was protesting outside a Real Madrid v Barcelona football match in Madrid, where both teams were customers of the airline, with banners reading: "Don't fly with Privilege Style while they profit from refugees' pain." They also presented the firm with a "worst airline of the year" award at their headquarters in front of the media.
Charity Awards judge Ruth Davison also commended Freedom from Torture for bringing torture survivors and those with lived experience of the asylum system into the design and execution of the campaign. "This is what happens when you really embed a genuine commitment to lived experience throughout your organisation, as they have done for over a decade. And even if they haven't permanently stopped this policy, they have shifted the public debate – you can see it coming up again and again, the questioning of whether this is an OK way to behave as a nation, as a society."
Freedom from Torture is a UK-based organisation dedicated to healing and protecting people who have survived torture. They also want safe, legal routes reinstated for refugees to come to the UK, and a fair asylum process in place, especially as survivors of torture are among those being threatened with removal. They are concerned that if the UK abdicates its obligations under the international Refugee Convention, other countries could follow suit and these hard-won human rights would be severely threatened globally.
Freedom from Torture's Sceats continued: "What's at stake here is the legacy following the Holocaust – the Refugee Convention that says people can get somewhere safe by any means necessary and claim asylum on arrival. This is a StopTheFlights campaign, not a StopRwanda campaign – this is not about Rwanda. It's about whatever country the government is trying to circumvent its obligations through."
Return to grantee stories