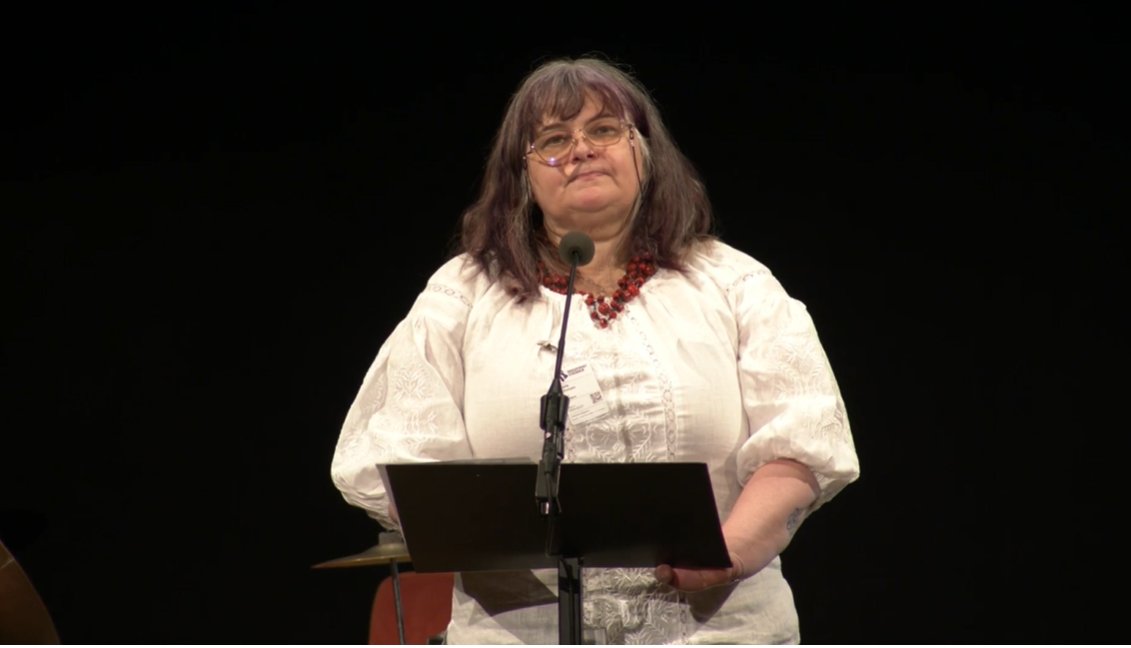 Ukrainian women activists honoured internationally for efforts to uphold women's rights in conflict
Women from two of our grantees based in Ukraine have been recognised for their exceptional efforts during the last year of war. Natalia Karbowska, Director of Strategic Development of the Ukrainian Women's Fund was awarded the Hillary Rodham Clinton Award in December 2022, while Marta Chumalo, a founder of Women's Perspectives, was awarded Sweden's Olof Palme Prize for human rights in February 2023.
The 2022 Hillary Rodham Clinton Award was given to Natalia and four other women, including Ukraine's First Lady Olena Zelenska, for their work to address sexual violence in conflict, and to encourage women's meaningful participation in recovery and peace processes.  Clinton urged the global community to hold perpetrators of sexual violence in conflicts accountable and honoured Ukrainian women fighting for democracy, defending human rights, and seeking justice for crimes against humanity.
Natalia Karbowska said, "I consider this award recognition of not only my work, or the work of my organisation… but of the work of hundreds of women's organisations, and thousands of women activists in Ukraine that we work with and support". She also spoke about the critical role of grassroots organisations. "Women are suffering in war, and Ukraine is not an exception. But we also know the solutions. We just need platforms for us to present these solutions… Investors should not be afraid to invest in grassroots organisations, because the real life is there. The decisions, the solutions to many questions, are at the grassroots level".
The Hillary Rodham Clinton Awards are bestowed annually for exceptional leadership in promoting women's rights and creating a more peaceful and secure world.
In February, Sweden's Olof Palme Human Rights Prize for 2023 was awarded to three women, from Ukraine, Iran and Turkey, for "their efforts in the fight to secure women's freedom, in an age when human rights are threatened by war, violence and oppression".
Marta Chumalo, a psychologist and activist, is a founder of SRT grantee West Ukrainian Center, or 'Women's Perspectives' – an NGO promoting women's rights and combating violence against women. She has been working to support women exposed to violence for over twenty years.
"Since 2014, and especially since Russia's full-scale invasion of Ukraine in 2022, Marta Chumalo has been heavily involved in raising awareness about the effects of the war, and in addressing the needs of its victims," the Fund said. "Among other things, she is demanding an effective implementation of the Istanbul Convention in order to support victims of sexual violence in the war."
The jury noted that she has been the target of both death threats and prosecutions and "has also been imprisoned for her beliefs", leading Amnesty International to name her "a prisoner of conscience".
The Olof Palme Prize is an annual prize worth $100,000, awarded by the Olof Palme Memorial Fund. It commemorates the memory of Sweden's former Prime Minister Olof Palme, an outspoken international human rights advocate who was assassinated in Stockholm in 1986.
Return to grantee stories